Café — Only Food & Sauces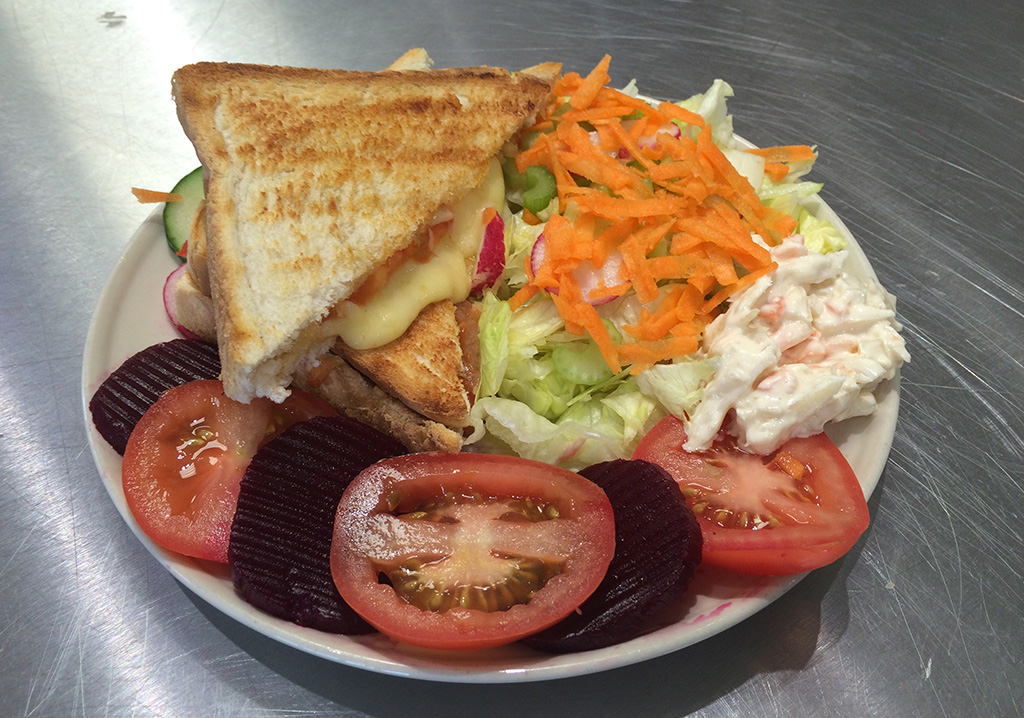 Our café is open to the public Monday to Friday from 9am to 4pm. Come along and try one of our reasonably priced meals or snacks, or just pop in for a cuppa and a chat. Our kitchen is operated with the highest standards of food safety and we have a Food Hygiene Rating of 5 (Very Good). All food is cooked freshly to order and our menu includes breakfasts, toasted sandwiches, filled rolls and sandwiches, jacket potato with various fillings and a full children's menu.
We can also cater for any event or function, whether it is happening within the Pill Mill or off site at another venue. We offer a range of options from a sandwich service to hot or cold buffet menus.
Buffet prices start from as little as £3 per head. We can also cater according to a fixed budget that you specify. Please call the centre if you would like more information.
The kitchen may be available to hire for special events and functions.
Sandwiches & Rolls
Cheese & Onion or Cheese & Tomato
£2.40
Salads
Tuna / Cheese / Ham Salad
£3.90
One of the above salads without roll
£3.20
Jacket Potatoes
Jacket Potato with Butter
£2.20
Jacket Potato with Beans or Cheese
£2.70
Chips
Medium Beans / Gravy / Curry & Chips
£2.20
Large Beans / Gravy / Curry & Chips
£2.80
Medium Cheese & Chips
£2.50
Large Cheese & Chips
£3.20
Chicken Nuggets (x8) & Chips
£3.20
Sausage (x2) & Chips
£3.00
Battered Fish, Chips & Peas
£4.00
Fishfingers (x4), Chips & Peas
£3.50
Fishcake (x2), Chips & Peas
£3.50
Breakfasts
Large Breakfast: 2 Sausages, 2 Bacon, 2 Fried Eggs, 2 Hash Browns, Beans OR Tomatoes, 1 Black Pudding, 2 Toast OR Bread and Butter
£4.45
Small Breakfast: 1 Sausage, 1 Bacon, 1 Fried Egg, 1 Hash Browns, Beans OR Tomatoes, 1 Black Pudding, 1 Toast OR Bread and Butter
£3.45
Scrambled/Fried Egg & Beans on Toast
£2.50
Burgers & Breakfast Rolls
Bacon & Egg Cheeseburger
£3.40
Double Cheeseburger with Bacon
£4.00
Other Meals & Snacks
Cheese & Onion OR Ham & Onion Roll
£2.50
Portion of Jam/Marmalade
£0.15
Mug of Tea OR Coffee
£0.70