What's On
Central Hub Summer Programme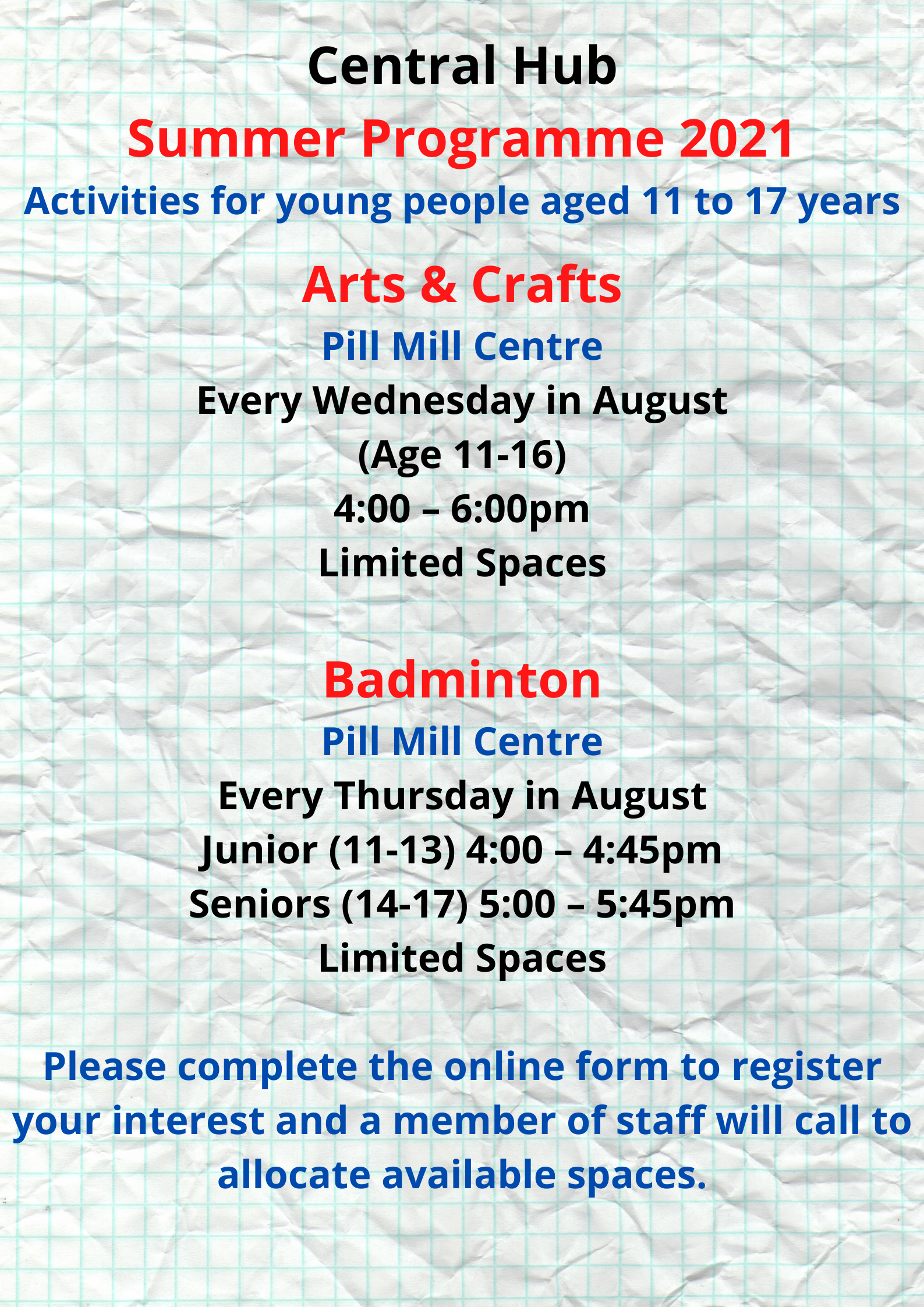 The Central Hub team are putting on some activities at the Pill Mill every Wednesday and Thursday during August. The actvities are for young people aged 11 to 17 years and you need to register in advance. Spaces are limited so fill in a registration form as soon as possible:
https://forms.office.com/r/s8sTCXa82k
Fill out the form and one of the Central Hub team staff will phone you to allocate available spaces.
Arts & Crafts – Ron Jones Suite (For ages 11 to 16 years)
Wednesday 4th August
Session (11-16): 16:00 – 18:00 (12 spaces)
Wednesday 11th August
Session (11-16): 16:00 – 18:00 (12 spaces)
Wednesday 18th August
Session (11-16): 16:00 – 18:00 (12 spaces)
Wednesday 25th August
Session (11-16): 16:00 – 18:00 (12 spaces)

Badminton – Main Hall (For ages 11 to 17 years)
Thursday 5th August
Session 1 (Juniors 11-13): 16:00 – 16:45 (8 spaces)
Session 2 (Seniors 14-17): 17:00 – 17:45 (8 spaces)
Thursday 12th August
Session 1 (Juniors 11-13): 16:00 – 16:45 (8 spaces)
Session 2 (Seniors 14-17): 17:00 – 17:45 (8 spaces)
Thursday 19th August
Session 1 (Juniors 11-13): 16:00 – 16:45 (8 spaces)
Session 2 (Seniors 14-17): 17:00 – 17:45 (8 spaces)
Thursday 26th August
Session 1 (Juniors 11-13): 16:00 – 16:45 (8 spaces)
Session 2 (Seniors 14-17): 17:00 – 17:45 (8 spaces)
For more information please call the Central Hub team on 01633 264157
< Go Back